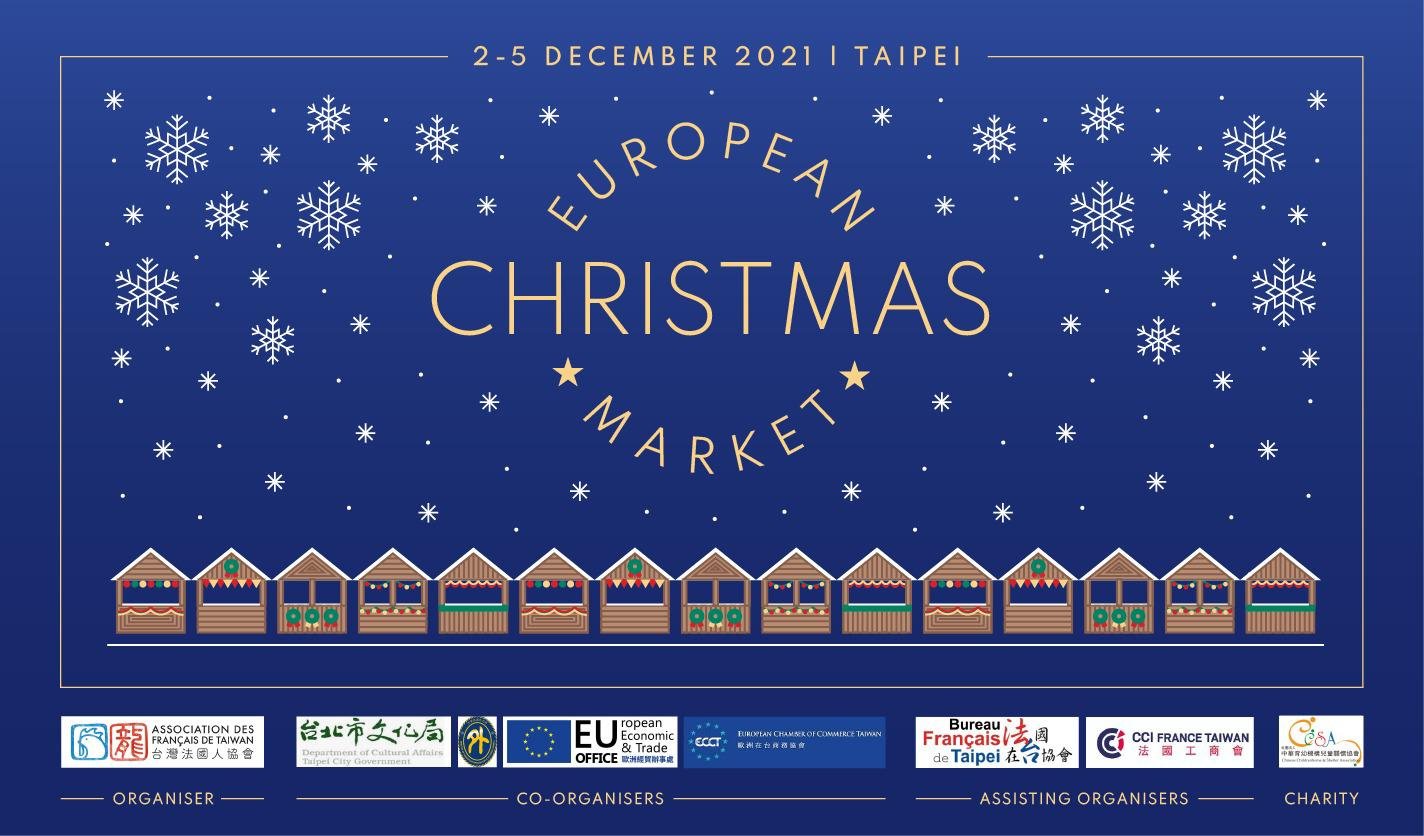 2021 European Christmas Market
Dates:
2021 December 02 / 03 / 04 / 05 (from 11am to 10 pm)
Location:
Our 4day-event will take place again on the most famous venue in Taipei Xiangti Avenue Plaza and its side walks next to Mitsukoshi department stores (Xinyi). Being the top-frequented pedestrian shopping avenue, it makes this venue the perfect location for our Holly-Jolly Christmas Market Event to take place.
Following the spectacular success of the 2020 Taipei European Christmas Market, the Association des Français de Taiwan (AFT), in co-organization with the European Economic & Trade Office (EETO), Taipei City Government, the Ministry of Foreign Affairs (MOFA) and the European Chamber of Commerce Taiwan (ECCT), is delighted to announce the 2021 edition.
To accommodate more visitors than last year, the 2021 Taipei European Christmas Market will last 4 days!
The objective of the event remains to share the spirit of Christmas and the European way of life with our friends in Taiwan. The event will bring together European foods, drinks, crafts, cultural performances and children's activities, all in one location.
For a good cause
Like last year, we will promote the Christmas solidarity spirit in Taiwan, bringing the Taiwanese public closer to our European communities; and share love by supporting a charitable cause in relation to children in need.
Indeed, as a not-for-profit organization, the Association des Français de Taiwan (AFT) is committed to donating. all the earnings generated from its House – AFT Booth to:
The Chinese Children-home & Shelter Association  / 社團法人中華育幼機構兒童關懷協會 (CCSA).
Together we could certainly have an impact on the life of these children in need.
You can also easily make extra contributions by voluntarily donating an amount of your choice 
through AFT (please refer to the contact information at end of this page).
DO YOU SELL
› European food, beverage, crafts?
› Christmas gifting?
AND DO YOU WANT TO SHARE
› European countries' culture?
› Christmas culture?
Become an Exhibitor!
You can download our presentation for exhibitors and the application form here:
Who are our cultural stage performers?
In relation with European and/or Christmas culture, are you?
› Member of a choir, a band or a dancing group and wants to share your passion?
› Craftsman/woman who wants to introduce your activity and products?
› Interesting in sharing other passion/knowledge on a stage with a large audience?
CONTACT US IMMEDIATELY!
(Contact info at end of this page)
PLEASE SPONSOR US, WE NEED YOU!
The Association des Français de Taiwan (AFT) is a not-for-profit organization composed only of volunteers. We will be able to make this charity event possible only with the generous support of contributors and sponsors. All kind of donations are accepted (including products for our lucky draw to raise fund for the CCSA Association)
You can download our sponsorship program here:
Download in English – 下載中文版
For further information or if you may have any questions, do not hesitate to contact us!
See you at the 2021 European Christmas Market!
Angie Huang
AFT – Assistant Event Planner
staff1@aft.tw
(Languages available: Chinese / English)